The Electro Acuscope 80L is the latest release of the most advanced technology for chronic pain control, trauma rehabilitation and accelerated healing.
The Acuscope 80L is the first instrument of its class to have auto frequency scanning and when paired with the Myopulse 75L, provides a pain management combination that has proven to reduce rehabilitation time by an average of 65% in industrial medical clinical trials.
Utilizing a wide variety of probes for attended and unattended treatments, the Acuscope acts upon subcutaneous tissues and neurological issues to reduce pain and inflammation. All models of the Acuscope are effective in restoring circadian cycles and treating stress, anxiety and sleep disorders. Therapists and patients will experience unparalleled results in pain management, increased range of motion and accelerated healing.

As with all of Biomedical Design Instruments' equipment, the Acuscope is an I/O impedance controlled microcurrent device for precise treatment delivery required to handle even the most difficult pain, trauma, and injury cases, including a wide variety of muscle and connective tissue problems.
Notable features departing from traditional controls are automatic frequency conditioning adjustment modes in Channel 1 and expanded current and frequency in Channel 2. This unique combination allows the practitioner to gain full treatment control from patient screening and assessment to complete resolution of most conditions.
Standard Accessories: Point specific trigger probe, indifferent point specific probe, 4 brass ball tips 1/4" & 3/8", 1 pair 1"x1" pads with wires, hand-held probe, coil cord, connecting cable, charging module, conductive electrolyte, Restoro brass polish and manual.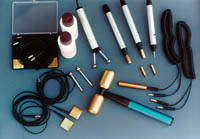 Optional Accessories: Y probe with 4 ball tips, transcranial ear clips, head band with wires, odonton probe, auricular probe, grand roller, grand ball probe, preamp box with 2 large hand/foot plates with wires and reflexology/lymph probes (not all shown).
ELECTRO-ACUSCOPE 80L SPECIFICATIONS
MODE 1
Power On - Switch Position-1
3 1/2 Digit LCD Electrode Contact Condition Display Monitor
Display 0 to 100 Relative to Gain Spectrum
Gain Spectrum - Range 000 to 999
Range-000: 20K to 300K
Range-999: 200K to 1 M
Output - Complex Wave Form Modulated Square Wave Envelope
Carrier Wave 50% Duty Cycle no load.
Frequency Modulated Pulse train with Alternating of
Current Polarity each 1.5 Seconds.
Frequency - Manual Select - 0.5, 1.0, 2.0, 4.0, 8.0,10, 20, 40, 80, 160, 320Hz.
Frequency - AutoConditioning 1 Hz to 160 Hz
Auto-frequency Reset Sequence to Zero Reset
Auto-frequency Time Delay - 4.5 sec to 9 sec.
Intensity - 25, 50, 100, 200, 400, 600uA RMS.
Timer - 6, 8, 12, 16, 30sec. & Cont.
Audio Feedback - Audio Threshold - Volume Control - Loudspeaker
Lo Battery LCD Indicator
Lo Power Level Cut Off
Two Types of Electrode Output.
Treatment Activator Switch

MODE 2
Power On - Switch Position-2.
Timer - 6, 12, 30sec., 1.0, 10 min & Cont.
Frequency - 0.5, 1.0, 2.0, 4.0, 10, 20, 50, 100, 200, 400, 600, 800 Hz.
Intensity - 50, 100, 200, 300, 400, 600uA RMS.
Output - Complex Wave Form, Modulated Square Wave Envelope
Frequency Modulated Pulse train with
Alternating of Current Polarity each 2 Seconds.
Feedback indicators - LCD Current Meter

OTHER CHARACTERISTICS
Power Supply - 24 VDC, fully rechargeable Lead-Acid batteries.
Charger Power ON And HI Charge LED Indicator
Dimensions - 19" long, 8" high, 16" deep Net weight 22 lbs.
Net weight 22 lbs.

INCLUDED ACCESSORIES
Trigger Electrode - Indifferent Electrode - Standard tip set (set of 4)
Hand Bar - Set of 1x1 Placement Electrodes with leads
Coil Cord - Charging Module - Solution - Operators Manual

To Order Call, Fax or Email Progressive Therapy Systems
We accept Checks, Money Orders and All Major Credit/Debit Cards



Major credit cards accepted by phone, fax or email.
Leasing Options Available